EPOXY COATING STEEL
BRC produces epoxy coated rebars complying with ASTM A 775, with diameters ranging between 8mm and 40mm. Epoxy coated rebar products are supplied from both plants in Jeddah and Dammam.
In line with the goals of Vision 2030 which are embodied in Saudi Aramco's IKTVA program, BRC procures the majority of black rebar from local producers within KSA.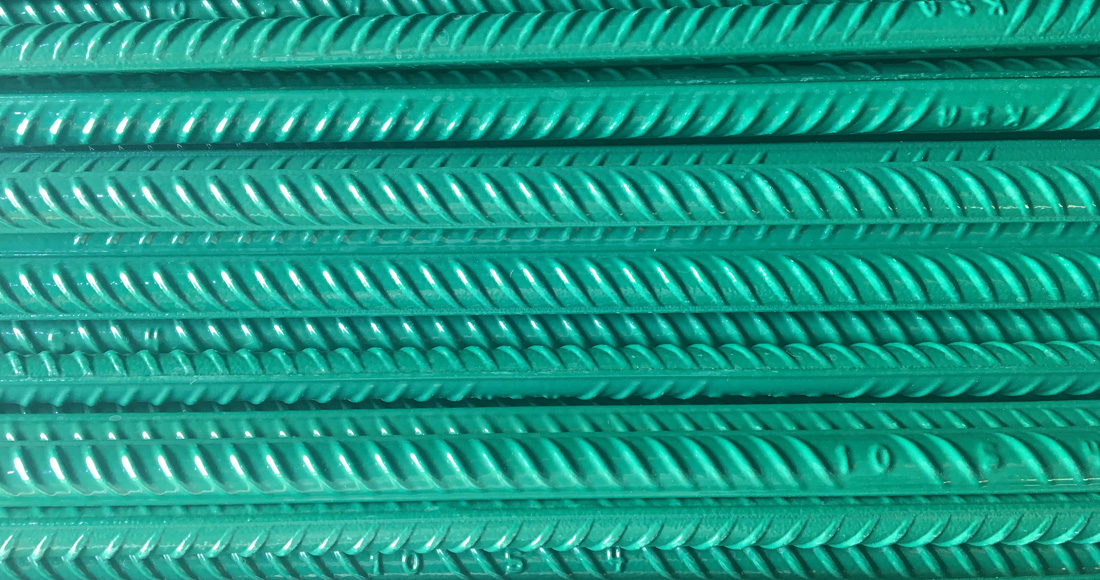 Manufacturing Process
The application of fusion bonded epoxy coating to steel rebars is a very meticulous process and is comprised of the following steps:
a. Surface Preparation:
The reinforcing bar is carried to a blasting unit to remove all surface contaminants, mill scales and oxidized layers. It also roughens the surface to give it a textured anchor profile (microscopic peaks and valets on the surface).
b. Coating:
After the reinforcement bars are blasted and pre-heated, they pass through a powder spray booth where the dry epoxy powder is emitted from a number of spray nozzles. As the powder leaves the spray gun, an electrical charge is imparted to the particles. These electrically charged particles are attracted to the grounded bar. When the dry powder hits the hot bar, it melts and flows into the anchor profile, essentially covering the total surface area of the bar. The heat also initiates a chemical reaction that causes the powder molecules to form complex cross-linked polymers.
In order to meet the very stringent quality demands in the ASTM A775 standard and Saudi Aramco guidelines, numerous automated and batch based quality tests are performed to ensure that coating thickness and continuity meets all relevant specifications.
c. Curing:
Following the application of the powder, the coating is allowed to cure for a short period of approximately 30 seconds. During this time it hardens into solid form. The curing period is then followed by a water quench that quickly reduces the temperature of the reinforcement bar to facilitate handling for unloading.
Product Specifications
The steel grades coated in BRC include but are not limited to the below specifications, and the coating for all reinforcement types is in conformance with ASTM A775:
ASTM A 615 – Grade 60
ASTM A 615 – Grade 75
ASTM A 706 – Grade 60 (Seismic)
BS: 4449: 2005 Grade 500B
Product Sizes
Both plants in Jeddah and Dammam are capable of epoxy coating diameters from 8mm to 40mm. For special requests for higher thicknesses, please do not hesitate our commercial team so that the issue can be studied on an individual basis.